Bring your Event Underground at the
Wabasha Street Caves
Starting a fresh reopening!
Experience a "ONE OF A KIND" DESTINATION!!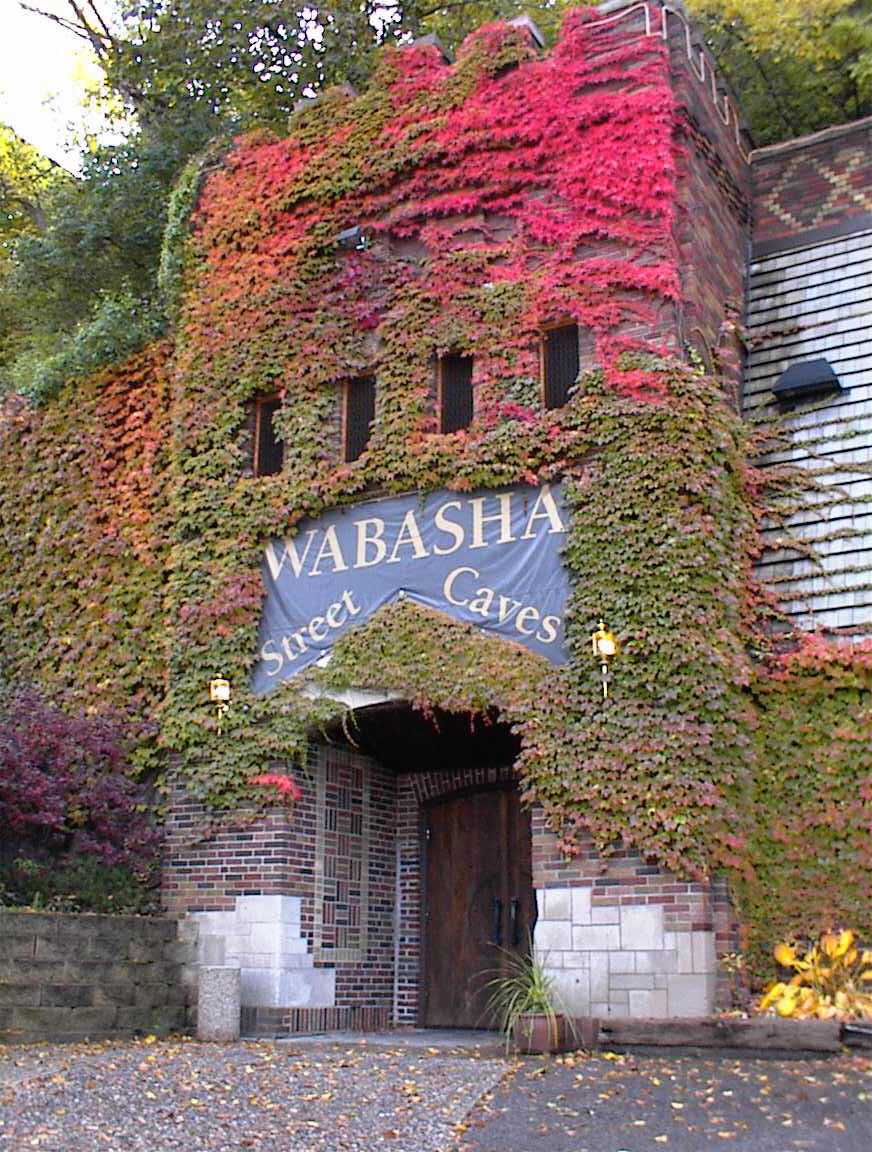 The Wabasha Street Caves is the most unique facility for private events in the Twin Cities. Located along the Mississippi River in downtown St. Paul, The Wabasha Street Caves offers a fascinating and mysterious setting for your next gathering event. The Caves 12,000 square feet of space is tastefully finished with brick walls, stucco ceilings, carpeted dining space and beautiful tile floors in the cocktail area. There is a theatrical stage, large hardwood dance floor, plenty of dining and meeting space, and a handsome 60 foot bar. Since the Caves are underground, geothermal energy is used to help limit the fuel needed for heating and we can conserve energy without the use of air conditioning. This is our part of going GREEN!


Banquets
The Wabasha Street Caves works with the finest catering companies in the Twin Cities to offer you unlimited options for menu selections and service for your breakfast, lunch, or dinner event. We also have our own full beverage service to accommodate your unique event.
Conventions
Why have all work and no play? Along with your Convention agenda, you may want to take people off-site for a private dinner, play, dance, casino, murder mystery, or theme party. Why not bring them to The Wabasha Street Caves to enjoy the most unusual setting between New York and San Francisco.
Special Events & Murder Mysteries
Group and private parties such as wedding receptions, class reunions, fund raisers, birthdays, anniversaries, and corporate parties have found The Wabasha Street Caves to be the perfect place for a unique and unforgettable party. For private groups, we offer our own Murder Mystery called "Tommy Gun Trouble" which reenacts a murder in the Caves. It is a fun and interactive show done with 7 improv actors who play with your audience during the show. We also have a 3 Person Improv Show that is a great add-on to any party. Give us a call for details.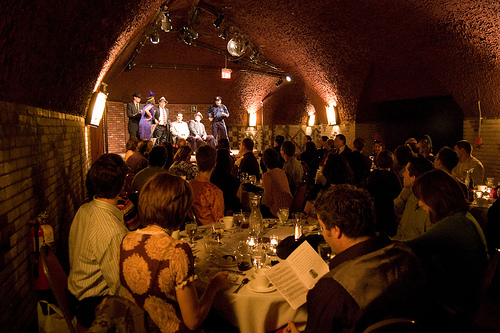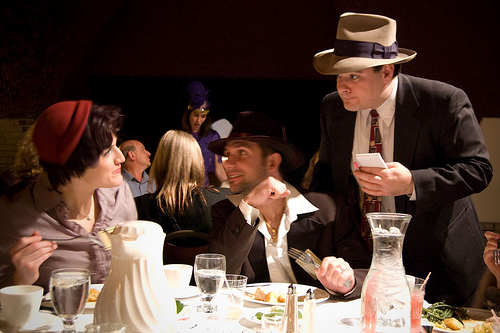 Some pictures of "Tommy Gun Trouble" and The Caves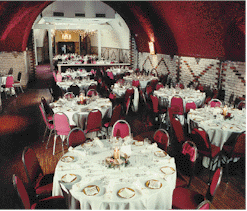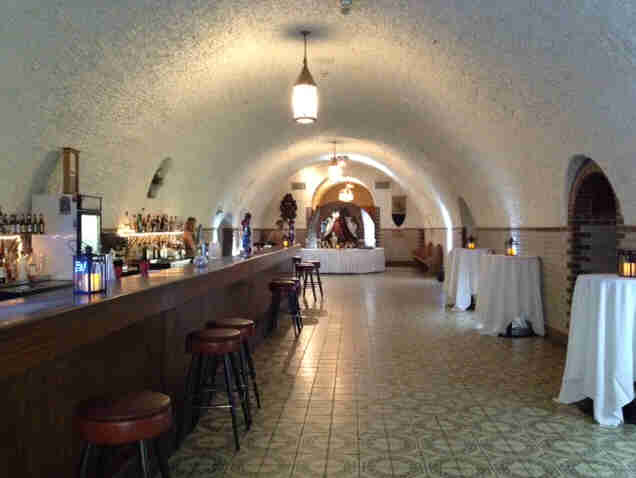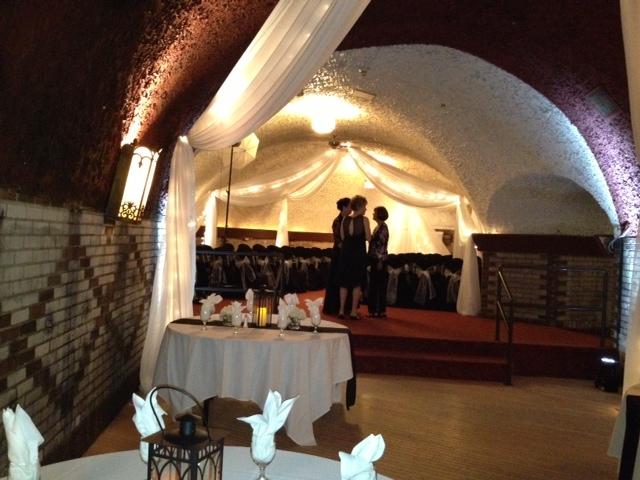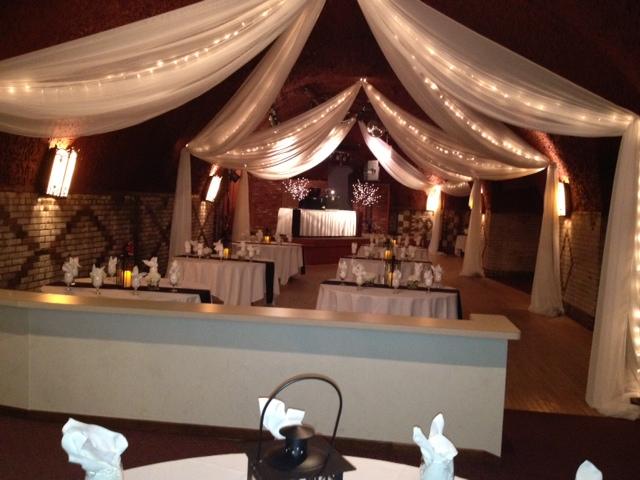 Event Rental Information

Features:

The Wabasha Street Caves is a non-smoking facility. We offer a list of 5 off-site caterers to allow a wide variety of prices and styles of food for your event. We have a full liquor license and an impressive 60 foot bar to accommodate any beverage needs. Our rental fee includes all required fees for most events, there are no additional costs for security, bar staff, etc., and we provide tables and chairs for up to 200 guests. We can accommodate 200 guests comfortably for a dinner and more for an hors d' oeuvre reception.

~ 2021 Pricing ~

Evening Rental Fees:

Monday thru Wednesday $ 2000.00

Friday and Sunday $2,400.00

Saturday $2,800.00

Fees include 6 hours for your event as well as 2 hours for set up before the event and 1 hour for clean up after the event. We have a $800.00 bar minimum for all evening events. We are not available for rental on Thursday Evenings.

Daytime Rental Fees:

$300.00 per hour/weekdays. Rental is paid for from start of set-up to end of clean-up for the event. We have limited availability for daytime rental on Saturdays & Sundays at $450.00/hour. If you choose to have beverage service for your daytime event there is a $150.00 per hour minimum.

Catering:

All food must come from one of the following caterers for your event. Please contact them directly for menus.

Cossetta Eventi, www.cossettaeventi.com, 651-602-0537 along with Hire A Host, 952-426-2004

D'Amico Catering, www.damicocatering.com, 612-238-4444

Kane's Catering, www.kanescatering.com, 651-482-9005

Brie Cater, www.briecater.com, 763-781-0702

Make your next event unforgettable. Gather in The Wabasha Street Caves. Conveniently located across the river in downtown St. Paul. On site parking is available. For more information on Bookings and Prices, or to reserve your group event just contact us at:

(651) 224-1191

Testimonials:

Our evening at the Wabasha Street Caves was amazing! You and your team did a phenomenal job. Your excellent coordination of people and vendors made the event easy for us. Because I had only seen the venue in photos, it was so much fun to experience it in person. It was perfect for our plan, and Joel was indeed surprised - which was sooo hard to pull off. Caleb was successful in organizing the traffic, Bick was personable and entertaining for the crowd and Amanda won kudos for juggling the requests at the bar, keeping everyone supplied with beverages with humor and style; she even made a Sidecar for my nephew. Everything went smoothly from our point of view, and we had a ball. We would love to come back again to dance and enjoy a band in the Caves. Linda ~ Surprise Party October 2019

Thanks so much for helping to make the kids day successful!!! You guys do a great job there. . .we got so many compliments! I was also told the bartenders really know their stuff:) Dolly ~ Wedding September 2017

I just wanted to follow up and say Thank You to you and you staff for everything Friday! Everyone was very helpful and friendly! We got excellent feedback from our guests as well. Brent ~ Wedding September 2017

We wanted to express our gratitude for a fantastic evening Saturday night. Our team had a wonderful time. Today, we have continued to hear from teammates that the venue was fun and unique, the show was an absolute riot and it was the best company party we have had (this coming from some of our longtime employees!). The actors did a fantastic job of working in a ton of personalized information for our team and did it in such a smooth way that at first some people didn't even realize it was happening!

Thank you for your suggestions and help in pulling it all together. Please share our appreciation with the actors/bar staff and others that helped! Rob ~ Corporate Event February, 2015

I just wanted to tell you how awesome and incredible the event turned out. Your staff was great and really helped make the event a success. We couldn't have asked for a better tour guide. Kitty Kelly was a hit and people are still talking about her. The way she moved through the crowd, interacted, and inspired people to participate was incredible. The bar staff (Laura and Geno) were so accommodating and fun that it felt like they were part of the family. We've also reached out to Greg and Grace to help with dance lessons who were also so accommodating and wonderful to work with. I just can't say enough about how impressed I am with you and your staff and how appreciative I am with all everyone did to make my daughters event such a success. " ~

Lori A. Deshler ~ Wedding July, 2011

"Dear Anne, Ryan, and Cave staff, Now that things have calmed down, we wanted to take a moment to thank you for everything you did to make our April 9th wedding memorable. We could not be happier with our decision to tie the knot in the Caves. We had a blast, and so did our guests. Anne was wonderful to work with, and her attention to detail and flexibility helped us to have the best event possible. Ryan was amazing as Baby Face Nelson - our guests were completely wooed by him, and we are still hearing from them how much fun they had on his tour! The bartenders were also attentive and personable, and helped create that festive vibe we loved. Thank you for many memories! Best~ Derek & Linda" Wedding 2011

"Our wedding was absolutely amazing! We couldn't believe how gorgeous everything looked in the Caves. Thanks a million to your staff for the wonderful reception. :-)" Kara ~ Wedding October, 2009

"I just wanted to let you know that the party was absolutely amazing. I would like to especially thank you, the coat check (so NICE! And helpful), gangsters (the tours were a highlight. I was shocked at how many people just loved them - the adults were crazy for them and the kids seemed….well just a bit crazy! Bartenders – who were quite the entertainers and got everyone "happy" – they were fabulous!

The Cave was "warm" and welcoming and no one was cold – just as you promised.

I would love to serve as a reference for you or the caves at any point in the future. I think it is the best place to have a great party!

You coordinated everyone beautifully and I believe our expectations were exceeded in every category!" Stephanie ~ Wedding November, 2009
[ HOME ]